Written by FARC-EP on September 23, 2015
Report from Havana, Cuba: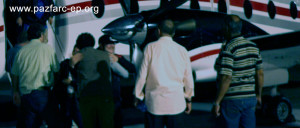 Peace Delegation of the FARC-EP published photos of the arrival of its commander-in-chief,Timoleón Jiménez (Timochenko), on its twitter account. He arrived early on September 23 at the José Martí airport in Havana and shortly afterwards met with the peace delegation of the FARC-EP.
He came to Havana to sign, together with President Juan Manuel Santos, the agreement on a Special Jurisdiction for Peace, historic event in the history of Colombia.
The meeting started at 6 pm, with the presence of Raúl Castro Ruz, president of Cuba, the guarantor countries Cuba and Norway and the accompanying countries Chile and Norway.
The Joint Communiqué about the Agreement on the creation of a Special Jurisdiction for Peace, is a summary of the agreement and was read by the representatives of the guarantor countries Cuba and Norway, Rodolfo Benítez and Dag Nylander. In it, the delegations explain the scope of the agreement and its contents. The special jurisdiction will consist of "Justice Rooms" and a Peace Court. Both the Justice Rooms and the Peace Court will serve "to make an end to impunity, to obtain truth, contribute to the victim's reparation and judge and sentence those responsible for serious crimes committed during the armed conflict, particularly the most serious and representative cases, guaranteeing non repetition.
Then President Juan Manuel Santos and Commander-in-chief Timoleón Jiménez pronounced their welcoming words, after which the leaders of the respective delegations, Iván Márquez and Humberto de la Calle, signed the agreement, followed by the guarantor and accompanying countries and both leaders.
After the meeting, both leaders read a communiqué separately. Timoleón Jiménez started saying that "the current peace process is the only one in the world that has agreed an Integral System that gathers and relates all the elements described by international law as 'inalienable rights of victims': Truth, Justice, Reparation and Non Repetition." He also underlined the need for a special day of contrition, a proposal made by the Peace Delegation some months ago, and the need for all participants in the conflict to assume their responsibility and offer truth to the Colombian people.
http://farc-epeace.org/index.php?option=com_k2&view=item&id=854:historic-agreement-on-special-jurisdiction-for-peace&Itemid=333
Source: Farc-Ep Colombia Peace Delegation