October 21, 2017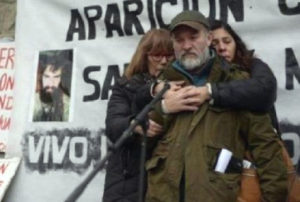 The family of Santiago Maldonado, an activist whose body was found in the Chubut River earlier this week, have released a statement questioning the Argentine President Mauricio Macri's silence for the past two months.
The family confirmed that Macri had spoken on the phone with the young activist's mother, after his remains had been identified.
"Beyond the inopportune moment chosen for his first call, after a silence of almost 80 days, it is important that the president assume that our only objective is to achieve justice for Santiago," the statement said.
The family also demanded that the Security Minister Patricia Bullrich explain in detail the police operation carried out on the day when he disappeared. Santiago vanished in August after a confrontation with security forces at a protest in Patagonia supporting the Indigenous Mapuche community's land dispute.
The statement also requested the intervention of the International Group of Independent Experts.
"#JusticeforSantiago | Santiago Maldonado's family recognized the tattoos on the body found in the Chubut River and state that #ItIsSantiago"
They family added that "Santiago has been the victim of violent action that triggered his death, so we must continue waiting for the conclusive results of the experts, ensuring that their work is done without any pressure."
"The attempt to discredit the investigation is a new affront to our pain, violates the prudence and respect demanded by the family," the statement adds, asking the country's political leadership along with the Argentine media and society to stand in solidarity with them until the truth is known and justice is done.
Earlier, the Inter-Amercian Commission on Human Rights, IACHR, had echoed the same, saying that the discovery of the Maldonado's body does not rule out the possibility that he was the victim of a forced disappearance.
Interviewed by FM's Diario de Futuro program, The Patriada, Esmeralda Arosemena, the IACHR's Vice President, highlighted the responsibilities of the State and Justice over his death and warned about the risk of "non-transparent management" during the investigation. Arosemena said "the appearance of a body does not rule out that it could be a forced disappearance."
She emphasized "the importance of the immediate investigation to determine the causes of death" and called for the probe to be implemented with "speed, transparency and, above all, no impunity."
The Federal judge Gustavo Lleral said the results of the autopsy carried out on the body on Friday showed no signs of injury, "We had a long day of work. Fifty-five people were in the room taking part in the autopsy and there were another 30 outside the room."
Lleral told reporters, "It was possible to establish that there were no wounds on the body." The forensic team also established that the remains were Santiago's.
He said the cause of death is not known yet but should be established within about two weeks and he called for respect for Santiago's grieving relatives.
The Maldonado family had released an earlier statement which said there are still many doubts about the case and expressing their hope that Lleral will advance in investigations without pressure, "We still find the National Government's refusal of the offer to collaborate with UN experts inexcusable."
https://www.telesurtv.net/english/news/Family-of-Santiago-Maldonado-Questions-President-Macris-Silence-for-Nearly-80-days-20171021-0014.html
Source: teleSur