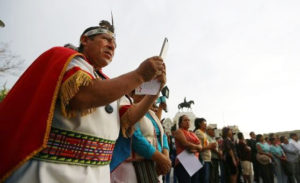 The People's Summit unites tribunals, Indigenous, women and youth organizations in an open, respectful discussion, unlike the Summit of the Americas.
Peru's alternative People's Summit is accomplishing more than its official counterpart, the VIII Summit of Americas, according to the Caribbean Peace Council.
In an interview with teleSUR, Caribbean Peace Council representative David Comissiong, from Barbados, described the contrast between the two international conventions from both the political and civic perspective.
"I am here primarily as part of the official summit, but the civilian society segment of it (the Summit of Americas) almost did not get off the ground because there was such a tremendous protest against the exclusion of Venezuela."
The VIII Summit of the Americas is taking place April 13 and 14 in Lima, Peru and centers on 'Democratic Governance against Corruption' – at a time when sprawling international scandals have engulfed mutliple Latin American leaders, including former Peruvian President Pedro Pablo Kuczynski.
The deliberate exclusion of Venezuelan President Nicolas Maduro from the Summit of the Americas also contributed to the event's combative climate.
"There's no spirit," said Comissiong. "There's no sense of anything progressive. There's no spirit of solidarity. You know you cannot have a conference with a theme of democracy to combat corruption and you begin by engaging in an egregious, undemocratic and corrupt act that is the exclusion of the democratically elected president of Venezuela.
"That is an act that flouts international law principles and it is in an undemocratic act in that it is an act that is designed to delegitimize a democratically elected president. You're exhibiting a contempt for democracy. So, we have a saying in Barbados: 'If you start wrong, you are bound to end wrong.'"
In contrast, the People's Summit, which has been in motion since Tuesday, unites tribunals, Indigenous, women and youth organizations in an open, respectful discussion, he said.
It exists to confront neoliberal policies and discourse, as well as discuss the future for Latin America and the Caribbean, along with the role played by the United States in the region.
The People's Summit is discussing the controversial imprisonment of former Brazilian President Luiz Inacio Lula da Silva; the U.S. sanctions against Venezuela, and Honduras' elections crisis, among other issues.
"That process has been much more of the spirit of a Summit of the Americas: a spirit of solidarity, a spirit of something progressive happening, because it is rooted in the people, it is a ground-up process," Comissiong said.
"At the official Summit of the Americas, there was not even a sense of the Americas, our culture, our heritage; it was just a dead and depressing event."
https://www.telesurtv.net/english/news/People-Trump-Politics-in-Perus-Progressive-Peoples-Summit-20180413-0019.html?utm_source=planisys&utm_medium=NewsletterIngles&utm_campaign=NewsletterIngles&utm_content=12
Source: teleSUR